Regular price

21.99 EUR

Sale price

21.99 EUR

Unit price

per

Sale

Sold out

Protective, Strengthening, and Anti-frizz

💳 Carta di Credito / Debito, PayPal, Bonifico o Contrassegno
📦 Ordina entro le 10 a.m. per riceverlo DOMANI STESSO!
🎁 Spedizione GRATUITA per ordini superiori a 69,99€
🆘 Hai bisogno di aiuto? Chiedi un Consiglio Personalizzato!
Are your hair lengths fragile, frizzy and dull?
The Hair Elixir Spray
restores the hydro-lipidic film and protects your hair from external agents: smog, wind, salt hair, chlorine and sun.
Hydrate your hair deeply with this Hair Elixir, thanks to its milky, light and moisturizing texture. It has a strong anti-frizz, strengthening and protective action.
It helps balance the humidity level of the hair shaft, that's why it's the perfect ally for your hair while you're at the beach or by the pool, since it makes your hair easier to handle and softer.
More than just a leave-in styling product!
Protective. Strengthening. Anti-frizz.
Click here for shipping costs.


Description
The Hair Elixir Spray,
ideal for whoever has dry, fragile and brittle hair or for who is looking for a product that can both protect hair from external agents and strengthen it, without being an oil that leaves the hair greasy.
The Hair Elixir makes your hair glossy, soft and silky, embraced by a sensual and vibrant floral perfume that gives a sense of freshness and lightness.
This Hair Elixir, with its silky consistency appears impalpable and it is not sticky on hair.
Its enjoyable perfume, the same as the Volumizing and Anti-frizz sprays, allows you to create a synergy between this spray and one of the two above, resulting in a powerful combination that protects your hair from external agents and not only makes it stronger, shiny and defined, but also nicely perfumed, in order to cover the strong herbal hair masks odour.
Ideal while at the beach or by the pool to protect your hair from dryness!
The Hair Elixir Spray wraps your hair flakes with a natural protective film, preventing your shaft from being damaged and making your hair perfectly moisturized, by defining it and making it shiny.
Protection and "nourishment" for your hair!
The Hair Elixir Spray formula is rich in active ingredients, selected for their moisturizing, protective and strengthening properties like:
the ✓mucilages from organic Aloe vera, a synergy of ✓vegetable oils (Coconut, Linseed, organic Jojoba, Carrot) with a chemical structure similar to hair fibers, ✓panthenol (provitamin B5), ✓fenugreek (methi) extract, ✓QUINOA, RICE & SOY hydrolized proteins, ✓Moringa extract, ✓equisetum, bardana and organic blueberry extracts, ✓green walnut and ✓tomato hydrolized extracts, ✓vitamin E and ✓betaine.
A moisturizing and "nourishing" formula that:
penetrates deep into the hair,

hydrates,
strengthens the shaft,

makes hair shiny,

protects and fortifies hair fibers.
It's ideal for all type of hair, for those who have fine, thin hair and for whom has thick hair. Your hair will rediscover its softness, vigor and will become shiny, voluminous and silky.
STOP dull and dry hair!
The Hair Elixir Spray doesn't weigh on hair, it defines the lengths while protecting them from sun rays and smog, and makes them soft, fluffy and glossy.
Avoid having stringy and dull hair at the end of summer.
Give firmness and elasticity to your dehydrated and weakened hair ends. The Hair Elixir strengthens them and gives them more finish, protection and brightness.
It's ideal if you're looking for a defined and shiny styling for your hair ends, with a velvety finish and a fluid movement.
Try it, it will be surprise you!


[[end tab]]
[[start tab]]
Key Ingredients


Key Ingredients:


100% ingredients of vegetable origin

Size: 150ml
INCI: Aqua, Aloe Barbadensis Leaf Juice*, Glycerin, Hydrolyzed Tomato Skin, Moringa Oleifera Leaf Extract, Hydrolized Walnut Extract, Hydrolyzed Soy Extract, Hydrolyzed Quinoa, Hydrolized Rice Protein, Hydrolized Wheat Protein, Equisetum Arvense Extract*, Vacinnium Myrtillus Fruit Extract*, Articum Lappa Root Extract*, Trigonella Foenum Graecum Seed Extract, Tocopherol, Tocopheryl Acetate, Hydrogenated Ethylhexyl Olivate, Hydrogenated Olive Oil Unsaponifiables, Simmondsia Chinensis Seed Oil*, Cocos Nucifera Oil, Zea Mays Germ Oil, Daucus Carota Sativa Root Extract, Linum Usitatissimum Oil, Helanthus Annuus Seed Oil, Creatine, Inulin, Alanine, Proline, Lysine Hydrochloride, Xanthan Gum, Lecithin, Ascorbyl Palmitate, Panthenol, Betaine, Glyceryl Stearate, Cetearyl Alcohol, Cetyl Alcohol, Parfum, Citric Acid, Sodium Benzoate, Potassium Sorbate, Sodium Hydroxide.
*Raw materials from biological agriculture
***************************************************************************************
Key Ingredients
Spray Hair Elixir:
Bio aloe vera, Coconut oil, Linseeds oil, bio jojoba oil and carrot oil, panthenol (provitamin B5), fenugreek (methi) extracts, QUINOA, RICE & SOY hydrolized proteins, Moringa extract, bio equisetum and bardana extracts, green walnut and tomato hydrolized, vitamin E, betaine.
***************************************************************************************


[[end tab]]
[[start tab]]
How to use
For external use only.
Recommended to protect hair from external agents: smog, wind, salt air, chlorine and sun. It must be applied before and during sunbathing. It doesn't contain physical and/or chemical filters. Some vegetable oils contain an intrinsic protection factor. *
*Hair products can't have the same concentration of UV filters as skin sun protection products. The result on hair would be unpleasant because hair would be oily and weighed down. Hair care products can contain just a small amount of UV filters, even better if their natural ingredients intrinsically feature UV filters.
How to use:
✓ Spray it a couple of times on your hands. Don't exceed if you have fine hair, in order not to weigh it down.
✓ Run your fingers through your damp or dry hair and massage it using your fingers as a brush up to your ends, and distribute the product evenly.
✓ Don't rinse.
✓ Brush your hair gently and then dry it.
✓ It's excellent both on dry and damp hair.
It must be used:
✓ On clean hair to remove the frizzy effect
✓ On dry hair to perfume it.
✓ As a strengthening mask before the shampoo application, to give strength and vitality to the shaft
✓ At the beach as a protective elixir to restore the hydrolipidic film.
✓ If applied before a bath in the sea, it prevents the salt and chlorine penetration in the hair fiber.
✓ Apply the product every 2 hours tops, better after washing chlorine and salty water away with fresh water.
Shake before use.
Perfect for very dry, damaged and chemically dyed hair.
Result? You'll be pleasantly surprised!
Your hair will be soft, lightly perfumed and the much-hated frizz effect will be gone.


Tips
Beauty Tips
Versatile product, can be used combined to other Beautilicious Delights products
The Hair Elixir is a spray-milk, with a light texture that not only is protective against the frizz effect, but also helps in the styling phase.
Versatile product, with a floral perfume that can be used:
on dry hair, as a styling product and as an anti-frizz spray,
and on damp hair lengthts for a moisturizing and protective action.
To create a WOW effect synergy, I suggest you to use the HAIR ELIXIR spray in combination with one of the two other Beautilicious Delights sprays, the Volumizing or the Anti-Frizz one.
Thanks to the unique perfume of these two products, you'll be able to fight the unpleasant smell that herbal hair colors mixes leave on hair.
The light texture of these sprays doesn't weigh down hair and that's why they can be used not only before and during the sun exposure, but also after the blowout as a strengthening and polishing product.
It's ideal for every kind of texture and hair, from thin, straight hair, to curly hair. The Hair Elixir gives it softness and shine!
Use it as a hair protection while at the beach or by the pool, but also as a styling product!
In addition to being perfect before the sun exposure and after a swim in the sea, it also works well as a styling product, if applied after having washed the hair. It makes your hair look glossier, it defines your ends and it makes your hair beautifully perfumed.
If applied before every swim in the sea, it prevents the salt and chlorine penetration in the hair fiber.
Restorative treatment for your damaged hair!
If your hair is particularly dry, damaged and weakened, you can use it as an intensive restorative ultra-hydrating hair mask that can reinforce your hair by giving it strength and elasticity. For better results, I recommend keeping the mask on all night long or, alternatively, for at least one hour.
In this specific case, be sure to apply a generous amount of product in relation to the length of your hair. Gently massage it on scalp and hair. Let it sit all night long. In the morning, wash your hair with a delicate shampoo and that's it!
Perfume your hair and fight the frizz effect throughout the day!
If your hair starts losing its shape, during the day, and it starts suffering humidity, you just need to spray the product on your hands, warm it by rubbing your palms and then gently distribute it on your lengths using your fingers, in order to define it and make your hair look perfect!
Do you want to take a conscious care of your fine, thin hair?
Here's 4 Essential Tips to Get Volume & Strength in your Hair!
More volume and shine in your hair?
If you are looking for even more voluminous hair, increase the diameter of each and everyone of your hair fibers using henna and herbal hair colors. Once you try the perfect herbal mix for your hair, you won't be able to live without it. You have never used henna and you're afraid that it might be a disaster??
Here's 20 things to know about Henna (Lawsonia Inermis) and Natural Herbal Hair Colors before dyeing your hair!
If, instead, you don't want to dye your hair but you still want to enjoy the beneficial properties of healing herbs, create a magical synergy using restorative hair masks made with Cassia Obovata (Neutral Henna) and the Natural Volumizing Spray.


Result?
Strong, moisturized, glossy and easy-to-handle hair.
***************************************************************************************
Recommended for:
every type of hair:
fine or thick hair;
weakened and dry hair,
dehydrated and dull hair lengths;
sun, chlorine or salty water exposed hair.
***************************************************************************************
Properties:
✓ Anti-frizz: thanks to the Moringa extract and linseeds oil
✓ Protective: thanks to the carrot, coconut and jojoba oils and vitamin E
✓ Strengthening: thanks to the Quinoa, Soy and Rice hydrolized proteins, bardana, fenugreek, blueberry and equisetum extracts
✓ Moisturizing: thanks to the aloe vera and panthenol
✓ Conditoning: thanks to the natural betaine
***************************************************************************************
Main features:
- Made with ingredients from biological agriculture
- Vegan
- Allergen-free
- It does not contain silicones, parabens and alcohol
- It must not be washed away, it doesn't weigh hair down
- It has a delicate floral perfume, vibrant and sensual.
View full details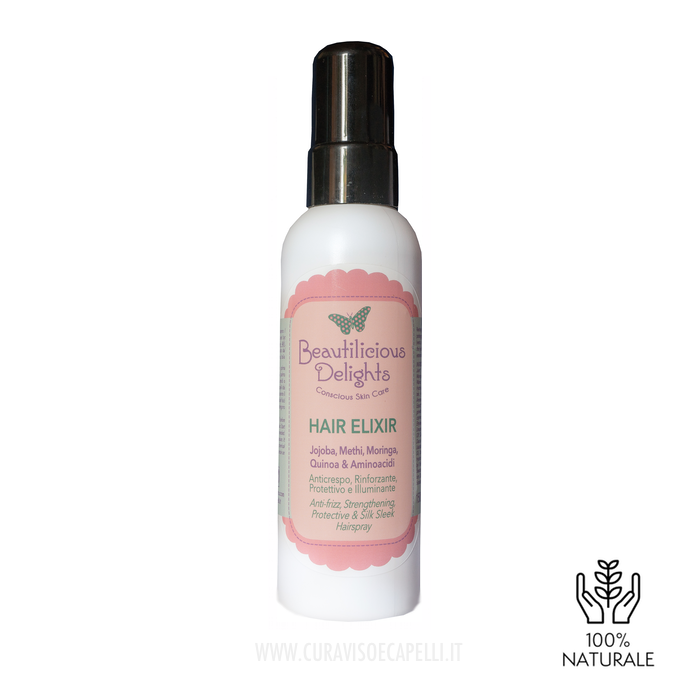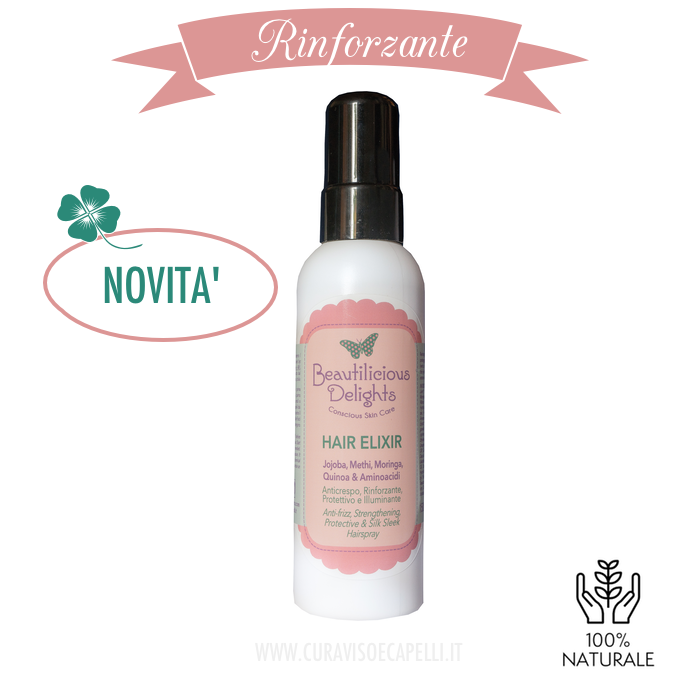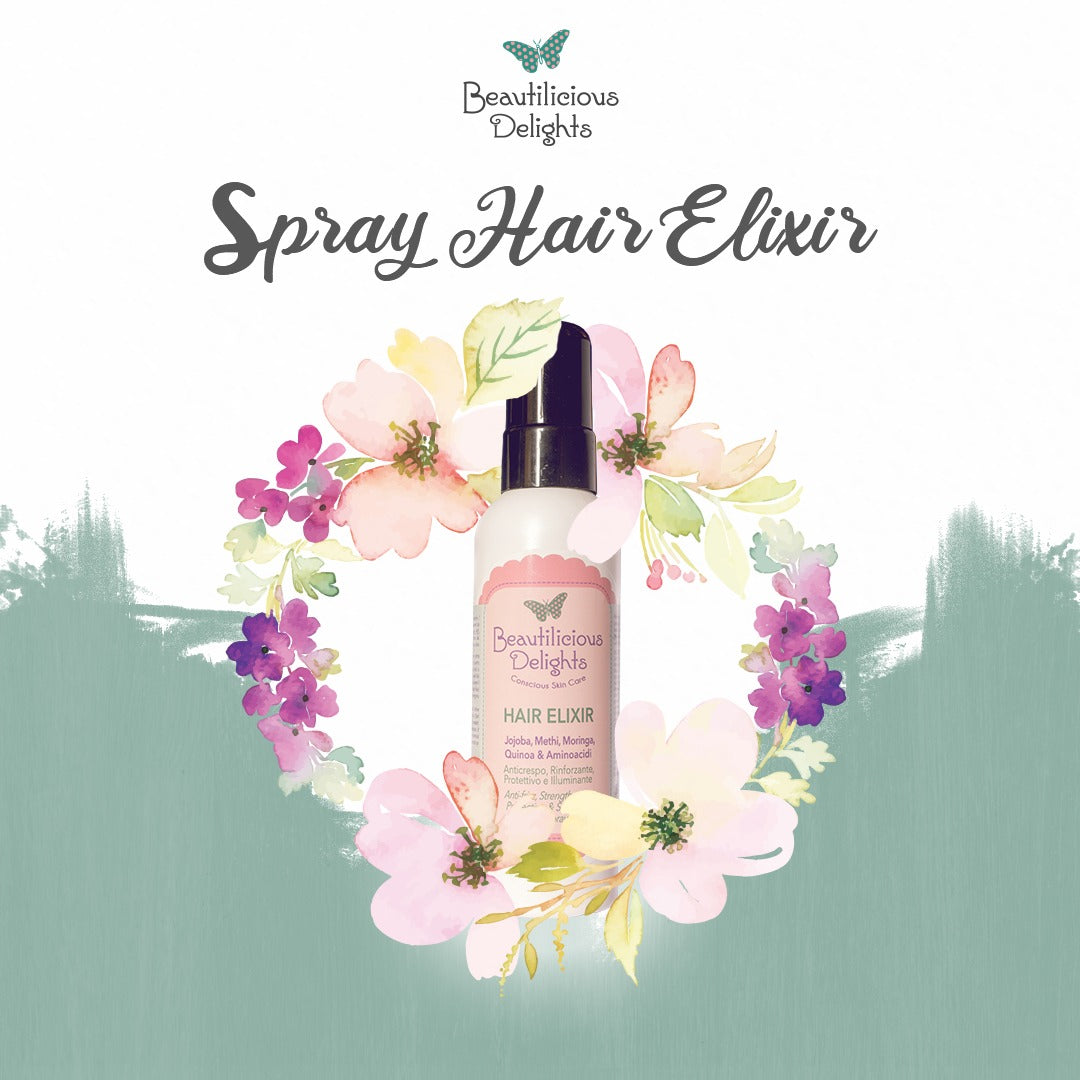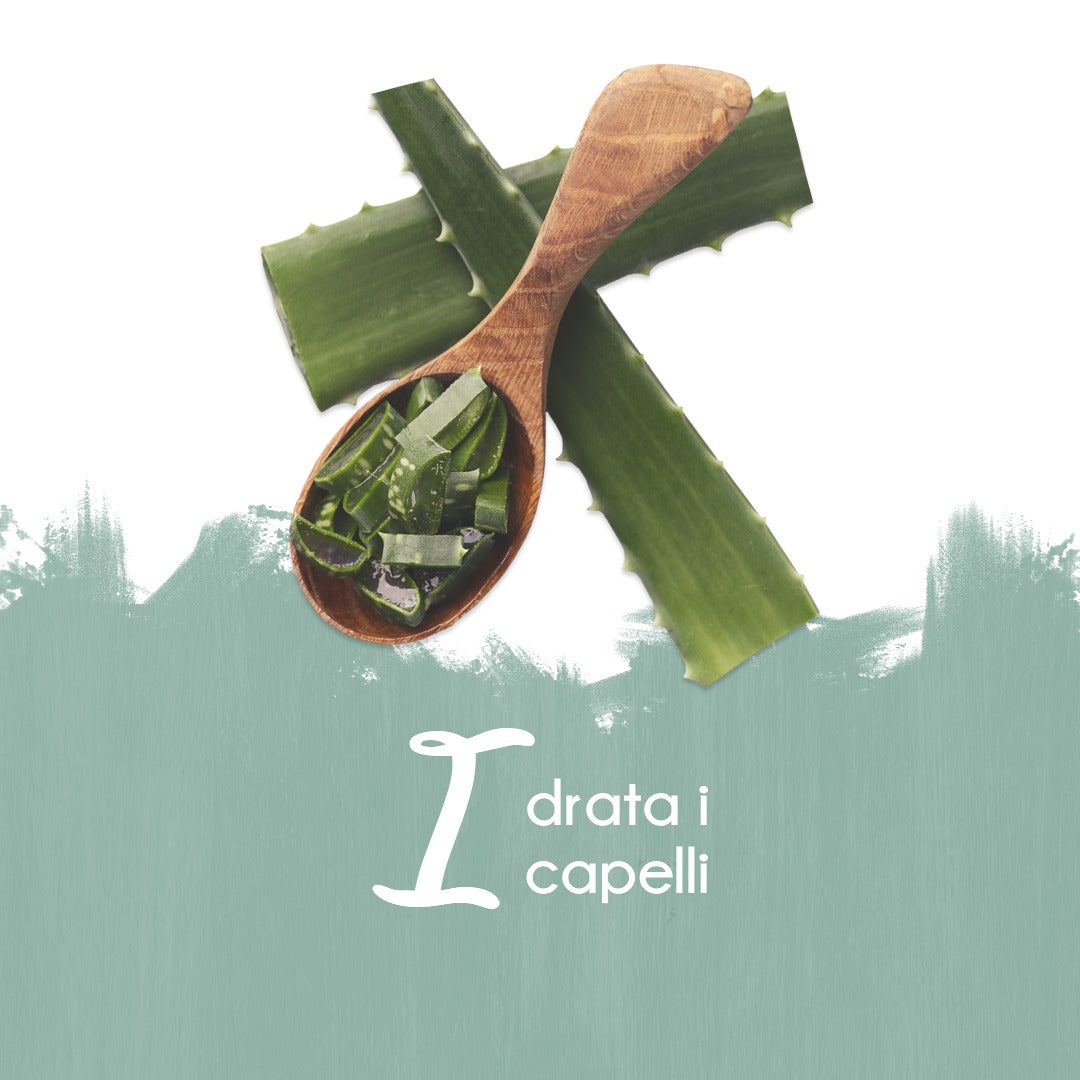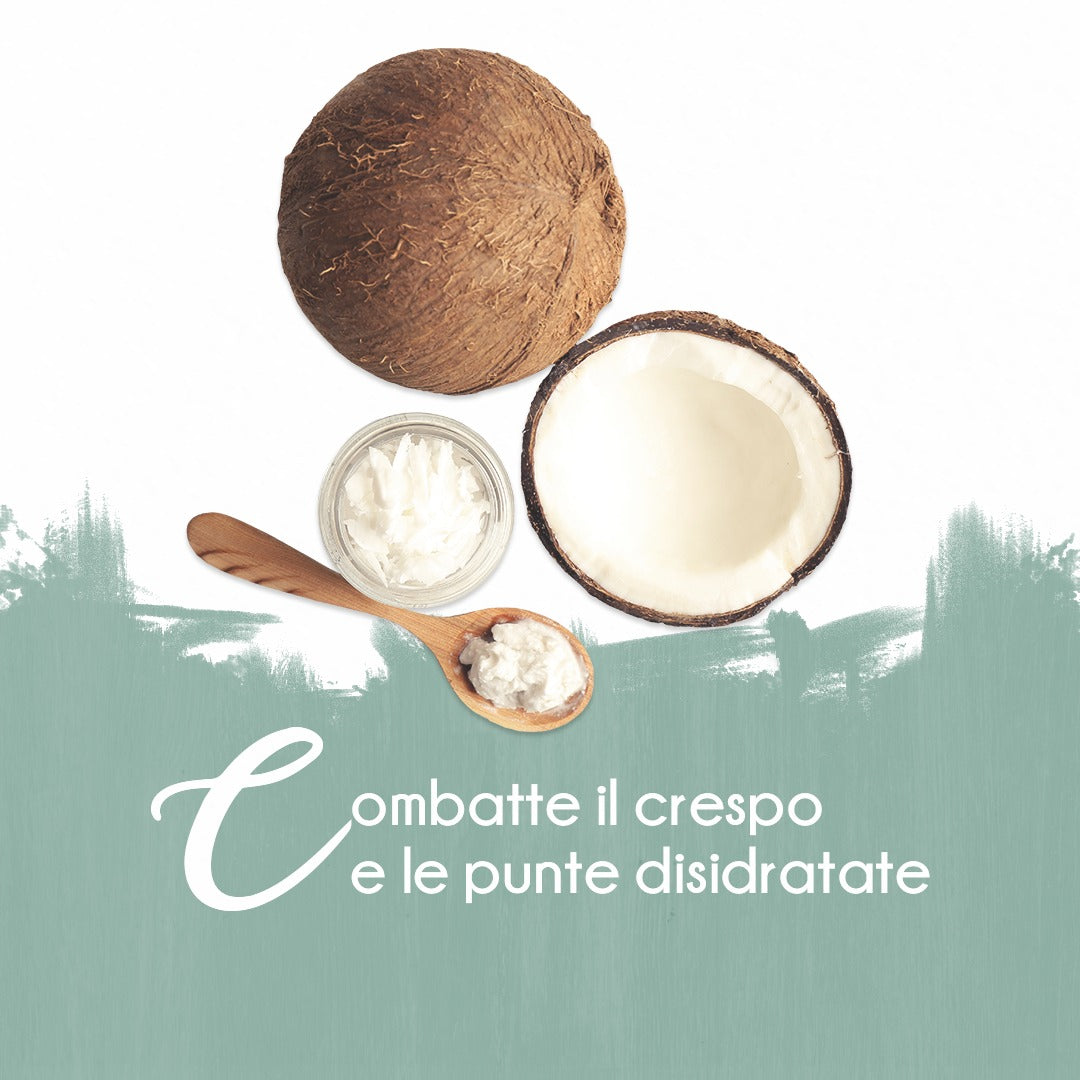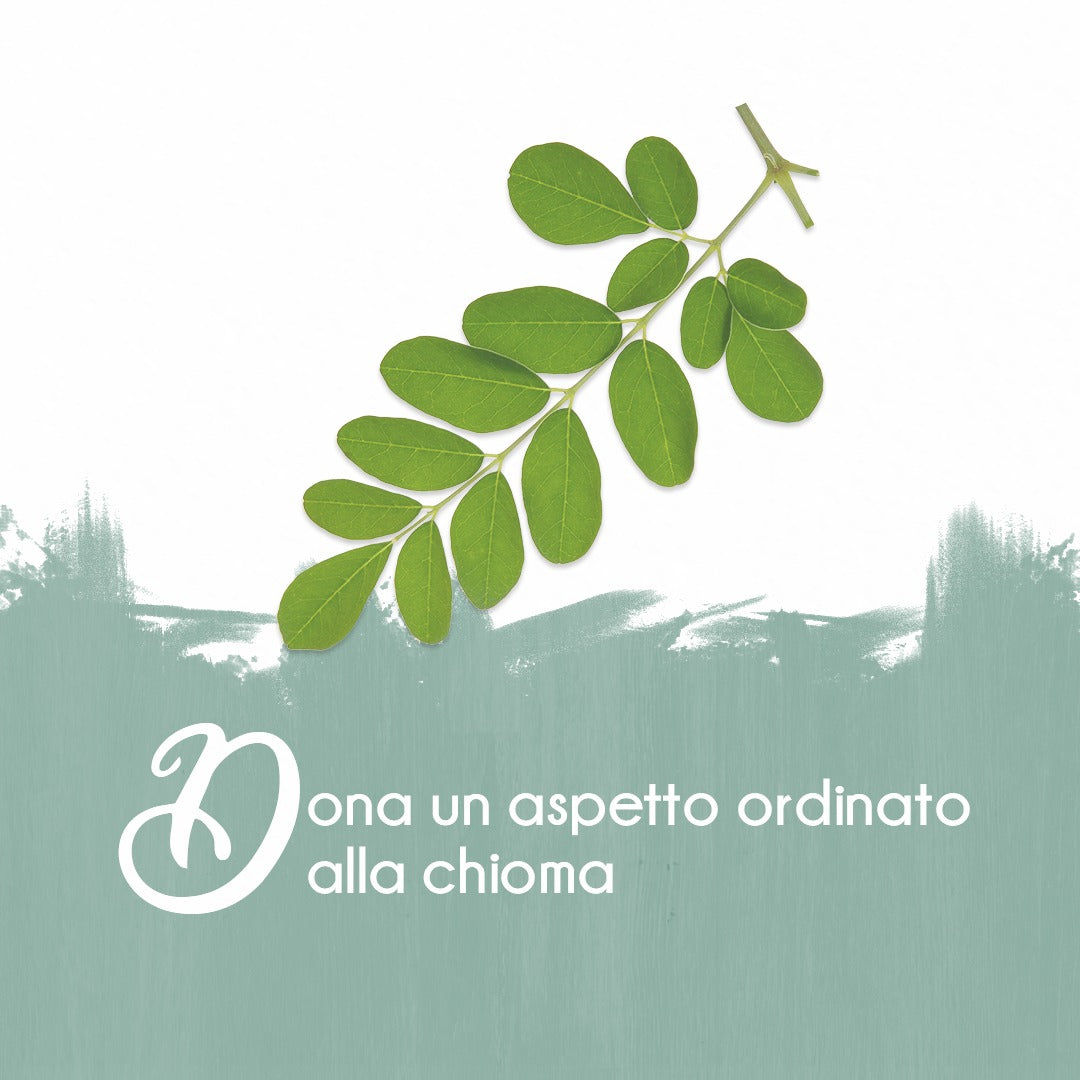 100% natural products

Quality always guaranteed

Personalized advice

Free shipping over €69.99

EXTRA discounts over €125