Regular price

Sale price

7.29 EUR

Unit price

per

Sale

Sold out

Revitalizing, Detoxifying, and Purifying

Lot expiration: November 2024

💳 Carta di Credito / Debito, PayPal, Bonifico o Contrassegno
📦 Ordina entro le 10 a.m. per riceverlo DOMANI STESSO!
🎁 Spedizione GRATUITA per ordini superiori a 69,99€
🆘 Hai bisogno di aiuto? Chiedi un Consiglio Personalizzato!
Is your scalp delicate and sensitive? Is your hair dull and damaged?
KAPOOR GLOW
is a mix made with kapoor kachli, sidr and orange powder, conditioning, volumizing and shine-enhancing powders. The delicate Indian Multani Mitti clay with Neem and Aloe vera powders purify and moisturize the scalp & make hair more bodied, fuller and lighter.
KAPOOR GLOW is a hair mask with soothing, detoxing and rebalancing active substances that leaves your scalp fresh and your hair revitalized. It's excellent for every hair type, especially for sensitive and problematic scalp and for dull, damaged and ruined hair.
The mix can also be used to ✓fight dandruff and to ✓balance the sebum production.

Cosmos Natural certified powders, tested for pesticides and heavy metals.



Revitalizing. Detoxing. Purifying.
For fuller hair and glowing skin!


Action
The Kapoor Glow Mix
is recommended for every hair type, especially for sensitive and problematic scalps and for fine, damaged, dry & dull hair.
In order to have beautiful and healthy hair, you need to have a healthy scalp. As our face skin, the scalp needs to be clean, balanced and protected in order to encourage a healthy shaft growth.
We can compare the scalp to what the soil is for trees. Like the soil, the scalp is full of capillaries that, through blood, give nourishment to hair.
A healthy and clean scalp, without itchiness and bacterial proliferation encourages a healthy shaft growth.
The Kapoor Glow mix
has a refreshing and calming action on the scalp
balances the sebum production in oily scalp
has an antibacterial and antidandruff action
purifies the scalp deeply and revitalizes it
brightens hair with an anti-frizz effect
makes fine hair more bodied and easier to handle
gives body, shine and manageability to damaged hair
removes dead cells from the scalp.
Thanks to its astringent and purifying action, the Kapoor Glow hair mask cleanses the scalp deeply and helps getting rid of dead cells. Thanks to the high percentage of antioxidants in it, the constant use tones the scalp and promotes hair growth.
The Kapoor Glow mix, thanks to the sidr and aloe vera powders in it, soothes itchiness and purifies the scalp. It leaver hair bodied and shiny thanks to the orange and kapoor kachli powders. The orange powder conditions hair and the Multan Mitti Indian clay absorbs the sebum excess and detoxes the scalp.
Hair beauty is strictly related to the scalp health: we can't have beautiful hair without a healthy scalp.
Our scalp ages hence we need to take care of it as we do with our face skin.
By massaging the mask on the scalp, we stimulate the microcirculation and the cellular metabolism. The absorbing and stimulating action it has on our scalp, acts on the fibroblasts and stimulates the production of collagen.
The Neem powder, as well as the Multan Mitti clay, has an antimicotic and antibacterial action that fights dandruff and other scalp's problems.
If you have light or bleached hair, try the mix on a hidden strand of hair before applying it on your hair.
Thanks to its astringent and sebum-balancing properties, the Kapoor Glow mix has a gentle detox action on the scalp and makes hair shinier without weighing it down
.
It's excellent for those who suffer from seborrheic dermatitis, since the Kapoor Glow mix can be used as a poultice, because it's the ideal herbal remedy thanks to its purifying, refreshing and soothing action on the scalp.
What makes us different? Our quality!

The Kapoor Glow mix is 100% pure, and it leaver hair shiny, clean and full.
Kapoor Glow purifies the scalp in a gentle way and cleanses and refreshens it and thanks to its natural conditioning and sebum-balancing action both on scalp and hair lengths, it's the perfect ally for a weekly use.
Use Kapoor GLOW for fresh and purified scalp and for fuller hair!
Ingredients
Available in 100 g - 3.5 OZ bags.


Ingredients:
Hedychium Spicatum Extract*, Ziziphus Jujuba Leaf Extract*, Citrus Aurantium Peel Extract, Azadirachta Indica Leaf Extract*, Solum Fullonum (Fuller's Earth), Aloe Barbadensis Leaf Powder*.
*Organic ingredients
100% without chemical additives or any other ingredient not listed on the label.
Kapoor Kachli powder (Hedychium Spicatum Extract) comes from Hedychium Spicatum plant rhizomes. The plant belongs to the Zingiberaceae family. It has antiseptic properties for the scalp, it promotes hair growth and it has excellent conditioning and volumizing properties. Thanks to its natural perfume, it leaves hair pleasantly scented.
Sidr powder (Ziziphus Jujuba Leaf Extract) has an astringent and purifying action on the scalp and it soothes itchines by moisturizing the scalp, thanks to its mucilages.
Orange powder (Citrus Aurantium Peel Extract) makes hair shinier and softer. It makes it more elastic and pleasantly perfumed. It helps invigorating and purifying the scalp, and makes the shaft stronger. It's an excellent conditioner because it untangles hair without damaging it.
Neem powder comes from the dried and powdered leaves of the "Indian miracle tree", the Azadirachta Indica, belonging to the Meliacee family. With balancing and astringent properties, it has been widely used, since ancient times, because it's an antibacterial, antiseptic and anti-micotic plant. It's an excellent natural method to fight lice, to soothe irritated, oily or itchy scalp, and to prevent dryness and dandruff.
Multani Mitti Indian clay, whose botanic name is Solum Fullonum (Fuller's Earth), is one of the most deliate clays. It has a light exfoliating action because it gently removes impurities and dead cells from the scalp. It has a detoxing action and cleanses the scalp by absorbing the exceeding sebum.
Aloe Vera powder soothes the sensitive and irritated scalp and makes it refreshed and reinvigorated. It's excellent to fight dandruff and dry skin.
Kapoor Glow mix

absorbs the exceeding sebum and impurites and leaves the scalp refrehed and soothed, and it makes hair look healthy and beautiful.
Its composition rich in minerals (silicium, aluminium, magnesium, potassium, calcium and iron) makes Kapoor Glow mix very effective to rebalance the scalp's pH, promote cellular oxygenation, balance the sebum production and removing dead cells and impurities.

Ayurvedic cleansing mix, 100% pure

FOR EXTERNAL USE ONLY!
Nota bene!
You can use it on light or bleached hair only after doing a trial test on a hidden strand of hair.
Even if it doesn't contain dyeing molecules, it can change the hair color by making it darker or leaving strange highlights.
How to use
For external use ONLY.
Please make sure to do a skin sensitivity test on the crook of your elbow 48 hours before application. Allergic subjects might have an allergic reaction even if the product's 100% natural.
Nota bene!
KAPOOR GLOW can be used on light or bleached hair only after doing a trial test on a hidden strand of hair.
Even if it doesn't contain dyeing molecules, it can change the hair color by making it darker or leaving strange highlights.
We suggest you to use the Kapoor GLOW mix at least twice a month.
Recommended quantities:
Depending on how long your hair is, you can use:
20 grams of powder for short hair,
40 grams of powder for long hair.
TIPS:
Slowly add

warm water

to the

Kapoor Glow

mix, in order to allow the powder to absorb it. Tip: use warm rosemary, sage or nettle infusion to customize your cleansing mix.
Mix it vigorously until you obtain a homogenous mix, with batter-like consistency.
If there are lumps, use a blender.
Spread and massage the mix delicately on your scalp and roots for a few minutes.
Then spread the remaining mix on hair lengths in order to maximize Kapoor GLOW's cleansing, purifying and conditioning properties.
To maximize its

purifying and conditioning

effect, the mix can be kept on for 20-30 minutes top, wrapping your head in film and covering it with a wool hat to avoid being cold.
Rinse it abundantly with cold water.
Use a nut of conditioner on your lengths and always do a

last rinse using cold water and vinegar

to obtain fluffy and shiny hair.
Recommended synergyes.

Based on your own needs, add to your mix:

honey - for particularly dry scalp

aloe vera gel - to enhance the moisturizing effect on the scalp

1-2 drops of your favorite essential oil or

based on your needs: 1 drop of tea tree essential oil - to enhance the

purifying, antibacterial action;

or 1 drop of rosemary, sage or lemon essential oil -

for oily scalp

Moringa vegetable oil for a nourishing effect on the scalp

hydrated methi gel

to enhance the hair-growth promoting action.
Close the bag tightly after use. Keep out of the reach of children. Store away from air, heat, light, and moisture.


Use Kapoor GLOW for fresh and purified skin and fluffy hair!
***************************************************************************************
Recommended to:
take care of damaged and dull hair
take care of sensitive and irritated scalp
fight dandruff
give strength and volume to fine, fragile hair
strengthen damaged hair
purify the scalp deeply
***************************************************************************************
Properties:
✓ Detoxing
✓ Volumizing
✓ Antibacterial
✓ Revitalizing
✓ Astringent
✓ Antidandruff
***************************************************************************************
Main features:
- 100% pure cleansing mix

- Fine quality

- Consistency of talcum powder
- Easy to apply and rinse off
***************************************************************************************
Bring your hair back to life with Nature's help!
View full details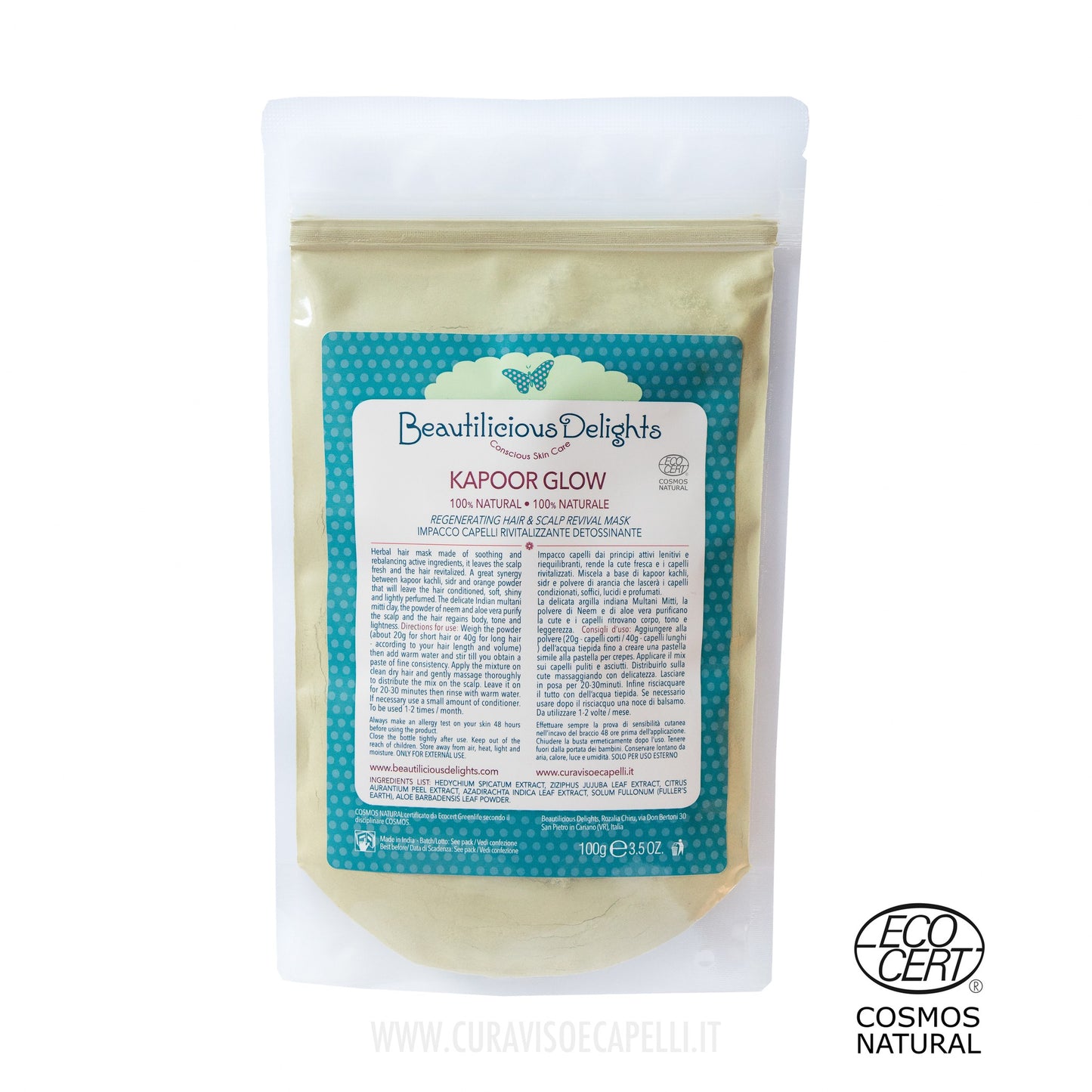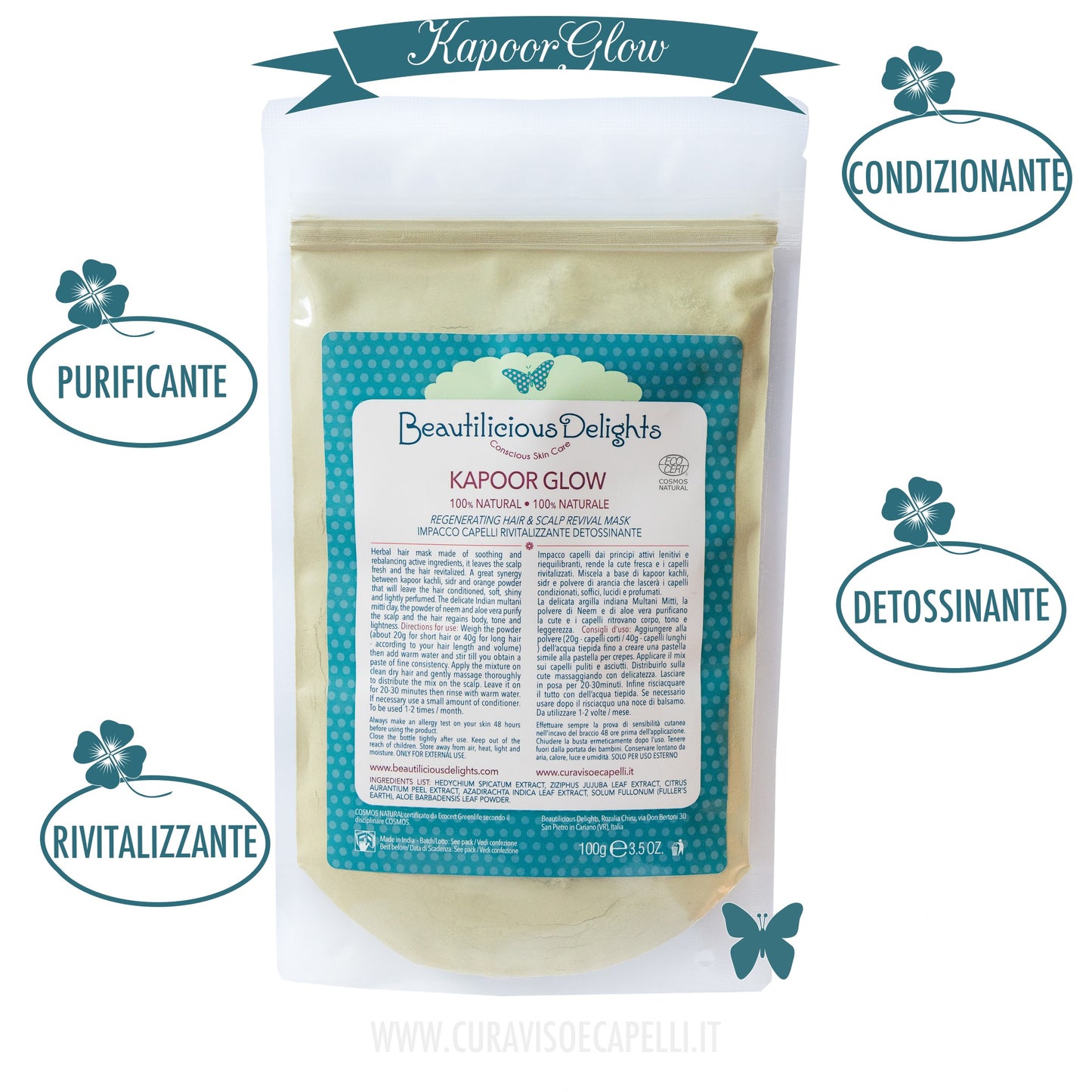 100% natural products

Quality always guaranteed

Personalized advice

Free shipping over €69.99

EXTRA discounts over €125