Sale price

15.99 EUR

Regular price

15.99 EUR

Unit price

per

Sale

Sold out

Revitalizing, Antioxidant e Protective

Lot expiry: May 2025

💳 Carta di Credito / Debito, PayPal, Bonifico o Contrassegno
📦 Ordina entro le 10 a.m. e sarà evaso OGGI STESSO!
🎁 Spedizione GRATUITA per ordini superiori a 69,99€
🆘 Hai bisogno di aiuto? Chiedi un Consiglio Personalizzato!
Are you looking for a regenerative beauty treatment for your skin, scalp and hair?
Moringa oil
is a precious beautifying oil that can be used both on your skin, scalp & hair, with strong antioxidant, moisturizing, anti-aging properties. Thanks to its light texture, it can be absorbed very quickly.
It is ideal for mature, dry skin, but also for impure and acneic skin.
Moringa Oil, Cosmos Organic certified, tested for pesticides.
Rich in antioxidants that help fight free radicals and slow down cellular aging,
Moringa Oil is also known for its antibacterial and anti-inflammatory properties.
For all kinds of skin and hair!
Revitalizing. Antioxidant. Prottective.
Light and vitality ritual for your hair and skin


Description
Moringa Oil,
despite its oily texture, it is very light on skin and hair and it is quickly absorbed, without leaving skin or hair oily.
Thanks to its strong anti-inflammatory and antioxidant properties, Moringa Oil has a protective action on tissues.
It's ideal to moisturize and rebalance the scalp, if massaged on the skin, Moringa Oil protects the hair bulb and helps fighting dandruff and dermatitis.
If used on the scalp, it helps strengthening the hair shaft and protecting it from environmental agents (wind, salt air, pollution). If you gently massage it on your scalp, it improves blood microcirculation, and prevents hair loss, especially if it is caused by a lack of vitamins and minerals.
Moringa Oil, rich in vitamins A and E, is a luxurious light and "nourishing" beauty ritual for dry hair leaving it stronger and vital.
Real revitalizing treatment for skin & hair!
Rich in minerals, aminoacids and vitamins, Moringa Oil helps improving skin & hair elasticity and softness. It contains many antioxidants that help fight free radicals and slow down cellular ageing.
Thanks to its anti-inflammatory and antibacterial properties, it not only takes good care of our skin, but it also helps the healing of bugs bites, burns or skin rashes.
Moringa Oil is one of the most stable vegetable oils in the cosmetic world because of its high percentage of oleic acid (up to 78%) that has an antioxidant and moisturizing effect.
Moringa Oil, very versatile, can revitalize dull, dry or mature skin and can purify combination or imperfect skin.
It has the typical vegetable oil texture, it's impalpable on the skin and it isn't sticky on hair. Its fragrance is peculiar, it's like other vegetable oils fragrances and it's not persistent. It's fresh and light, after a little time it won't be perceived anymore on skin or hair.
It has a moisturizing action on skin & hair.
Thanks to the high percentage of aminoacids, proteins, oligosaccharides and polysaccharides in it, Moringa Oil has a:
direct moisturizing action thanks to the hydrophilic molecules that retain water,
indirect moisturizing action because it creates a protective film on the scalp or the shaft that prevents the water loss.
Protection and "nourishment" for your hair!
A precious oil with a moisturizing and "nourishing" action that:
penetrates deeply,

hydrates,
revitalizes the shaft,
is shine-enhancing,


protects and strengthens the capillary fiber.


Action
How it works:
Thanks to its high anti-oxidant and moisturizing properties, Moringa Oil is often used in the cosmetic world both for skin and hair care.
Its light texture on hair and skin and the high percentage of phytosterols, vitamins A, E and C and fat acids (oleic, palmitic, linoleic) make it a highly prized oil, rich in active ingredients and very versatile.
✓ Regenerative and revitalizing

Regenerative on the scalp because it improves the micro-circulation that helps revitalizing the shaft,
✓ it protects and moisturizes

It reduces dehydration and gives hair body and life. It helps protecting skin and hair from pollution.
Using Moringa Oil in our daily hair and skin care routine improves skin regeneration and helps fighting free radicals, therefore protecting our skin and hair. It's possible to do so because of the high percentage of tocopherol (α-tocopherol, γ-tocopherol, δ-tocopherol) and sterols (β-sitosterol, campesterol, δ–5-avenasterol, stigmasterol), with anti-oxidant action, in it.
✓ It emproves skin elasticity and softness, by deeply hydrating and nourishing it
The precious substances (stearic, palmitic, arachidic and beenic acid with soothing effect) found in Moringa Oil not only help inhibit free radicals action resulting in a more elastic skin, but they also help purify and protect it from oxidative damage.
✓ It fights acne and dandruff thanks to its ANTIBACTERIAL AND ANTIFUNGAL properties
The seeds, from which Moringa Oil is extracted, thanks to their isotiocyanates and aromatic glucosinolate, have a strong antibacterial action that is useful to inhibit those bacteria responsbile for acne and dandruff.
A precious regenerative cuddle for hair and skin!
Bibliography:
Ali, N.Akhtar, M.S.Khan et al.

Moisturizing effect of cream containing Moringa oleifera leaf extract by biophysical techniques: in vivo evaluation

. Journal of Medicinal Plants Research. 2013. Vol.7(8):386-391

Atif Ali, Naveed Akhtar, Muhammad Shoaib Khan, Muhammad Tahir Khan, Aftab Ullah.

Effect of Moringa oleifera on undesireble skin sebum secretions of sebaceous glands observed during winter season in humans.

Biomedical Research 2013; 24 (1): 127-130.

Padla, E.P., L.T. Solis, et al. Antimicrobial isothiocianates from the seeds of Moringa Oleifera Lam. Z Naturforsch C. 2012, 67(11-12): 557-564.

Antibacterial properties: https://www.ncbi.nlm.nih.gov/pubmed/21771453

Antioxidant and anti-inflammatory properties: https://www.ncbi.nlm.nih.gov/pubmed/19425184


Ingredients


100% ingredients of vegetable origin
Size: 100ml
INCI: Moringa Oleifera Seed Oil
***************************************************************************************
100% without chemical additives or any other ingredient not included in the ingredients list
Moringa Oil comes from an arboreal tree, native to India or Himalayan area, of the family Moringaceae, also known as horseradish tree because of the taste of its roots, which resembles horseradish.
When the fruit is mature, it is opened and, inside the seeds, there are the almonds from which the oil is extracted.
Richly endowed with Omega 9, vitamin A, B1, B2, B3, B6, B9, B12 and C, various minerals (zinc, sodium, potassium, magnesium, calcium and copper) and essential aminoacids like palmitoleic, oleic and linoleic acids.
Moringa Oil can be obtained through the grinding of the plant seeds, it contains a high percentage of oleic acid, that can be also found in extravirgin olive oil, up to 75%, that equals the percentage of the olives unsaturated oil. It's also known as Ben Oil or Behen Oil because of the high concentration of beenic acid, an excellent emollient with a velvety effect.

FOR EXTERNAL USE ONLY!


How to use
For external use only.

Very light and non-sticky oil, it is quickly absorbed by hair and skin.
It has a peculiar fragrance, similar to other vegetable oils, but it has a strong peculiarity that makes it different: it unlikely goes rancid.
That's why it's the best ally to protect, thanks to its antioxidants, our skin and hair.
Beauty tips
Hair
It can be massaged on damp hair and scalp before the shampoo. It's perfect for a regenerative, soft massage on
dry scalp
oily skin, to rebalance the sebum production,
scalp which suffers from dermatitis and flaking.
Use your fingertips to softly massage it on the scalp, to favor the blood microcirculation and to oxigenate the hair bulb.
To have healthy and strong hair, you need a healthy scalp!
If you apply it as a MASK on your hair length:
it strengthens the shaft,
it protects it from external agents,
it gives you glossy and conditioned hair,

it minimizes the shaft's dehydration.
A real blessing for the lengths and the shaft!
This oil, rich in vitamin E and aminoacid, is excellent to hydrate and strengthen dry hair, in order to make it more vivid.
✓ Wash your hair with your favorite shampoo
✓ Condition your hair with a pinch of green conditioner
✓ Gently brush your hair with a wide-toothed wooden comb and then dry it.
Use it:

✓ On clean hair to remove the frizzy effect, if your shaft is particularly thick and dry
✓ As a revitalizing and purifying mask before the shampoo, to fight dandruff and dermatitis
Add 1 drop of tea-tree essential oil and 1 drop of rosemary or sage essential oil to reinforce its purifying properties
✓ As a moisturizing and nourishing mask before the shampoo, excellent for dry scalp and to strengthen and revitalize the shaft. It can be used combined with aloe gel: mix them together and then massage the mix on the scalp.
✓ Use it as a mask on your scalp at least twice a month.
It's perfect for very dry, damaged and chemically dyed hair.
Face
Oil rich in vitamins, mineral salts, beta-carotene and poliphenols and phytosterols that have antioxidant properties, it helps
inhibiting the free radicals,

purifying the skin from cutaneous imperfections and oxidative damages,

deeply moisturizing and nourishing skin

fighting the dull and stressed skin appearance.
Moringa Oil gives skin great elasticity and softness. It's antibacterial and anti-inflammatory, it's moisturizing and has antiaging properties, so you can use it in the following ways:
- massage 1-2 drops on damp face skin, before sleeping
- add 1-2 drops of it to your favorite face cream/serum, especially during cold seasons
- massage it in purity with a drop of tea-tree essential oil on damp acneic skin as a purifying mask. Leave it on for 15 minutes.
- apply it in purity with a drop of incense essential oil on damp acneic skin as as a nourishing skin mask. Leave it on for 15 minutes.
*Be careful and stick to the recommended essential oil quantity in order not to burn skin. Essential oils can be very dangerous if not used correctly.
You'll be pleasantly surprised!
A regenerative cuddle for you and a relaxing moment for mind and body!


***************************************************************************************
Recommended for:
every hair type: dry or oily hair
scalp that suffers from dandruff, dermatitis and psoriasis
sun, salt air and chlorine exposed hair
dull, dry and mature skin
combination, oily and easily affected by acne skin
***************************************************************************************
Propertie:
✓ Anti-inflammatory

✓ Protective
✓ Antimicrobic
✓ Moisturizing

✓ Antioxidant
***************************************************************************************
Characteristics:
- Made with biological raw materials
- Vegan
- Allergen free
- Silicones, parabens and alcohol free
- It doesn't need to be rinsed, it doesn't weigh hair down
- Delicately perfumed, with vivid, floral and sexy nuances
View full details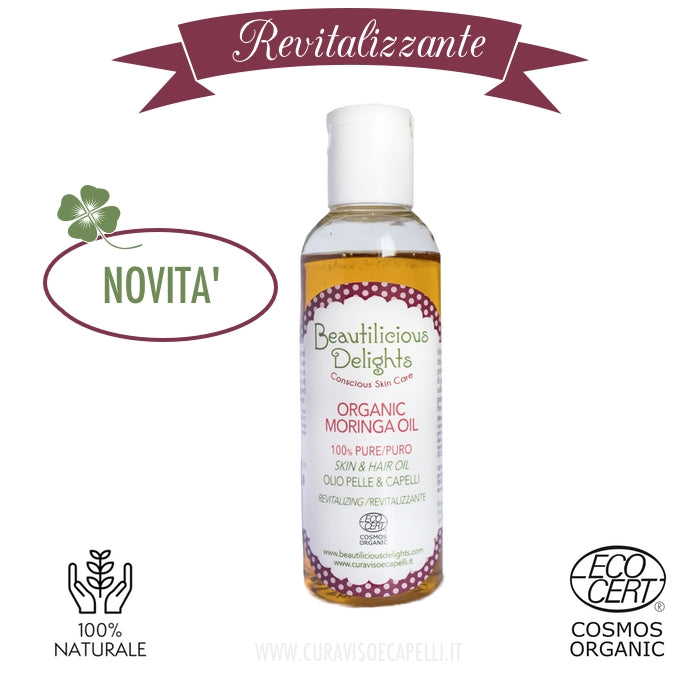 100% natural products

Quality always guaranteed

Personalized advice

Free shipping over €69.99

EXTRA discounts over €125