Sale price

15.00 EUR

Regular price

Unit price

per

Sale

Sold out

💳 Carta di Credito / Debito, PayPal, Bonifico o Contrassegno
📦 Ordina entro le 10 a.m. e sarà evaso OGGI STESSO!
🎁 Spedizione GRATUITA per ordini superiori a 69,99€
🆘 Hai bisogno di aiuto? Chiedi un Consiglio Personalizzato!
Do you have doubts about which mix to use to color your hair?
Personalized advice
was designed to meet those who approach the world of dyeing herbs and find themselves lost in figuring out where to start and which mix to use to color their hair. The consultation is done via email.
This personalized advice allows us to follow only people who are really willing to use our products.
Consequently we ask for this contribution worth €15 which will then be reimbursed with a discount voucher of €15 to be used in the 1st order .
PLEASE NOTE: If you are already a customer of the shop and have made a purchase in the last 6 months , you DO NOT have to purchase personalized advice .
You can send us an email with a request for advice to henna@beautiliciousdelights.com specifying that you are already a customer of our e-store.
Check out the payment methods.
Advice
The consultation is done via email. Once you have purchased the personalized consultancy, in the order confirmation you receive via email, you will find the link to fill out a form dedicated to the analysis of your skin and hair. 
Fill out the form, send us an email to henna@beautiliciousdelights.com attaching a photo of your hair taken outside in the light of day . It is important that it was taken outside and not at home to understand your starting shade well.
If you can, also send a photo with the tone you would like to get.
We will reply as soon as possible, within 48h (weekends and holidays excluded).
Payment
You can pay with Paypal if you have a paypal account or with your credit card. Or you can pay by bank transfer .
You can find out more about payments here:
https://www.curavisoecapelli.it/pages/metodi-di-pagamento
Reimbursement
After purchasing the consultation, within 24-48h you will receive a €15 discount voucher via email which you can use to deduct the cost of the consultation from the amount of your first order of Beautilicious Delights products.
Please note:
If you choose to pay for your first order of Beautilicious Delights products by bank transfer , you can deduct the amount of 15 euros from the final amount of the order, specifying in the reason for the bank transfer that you have used the personalized consultancy.
View full details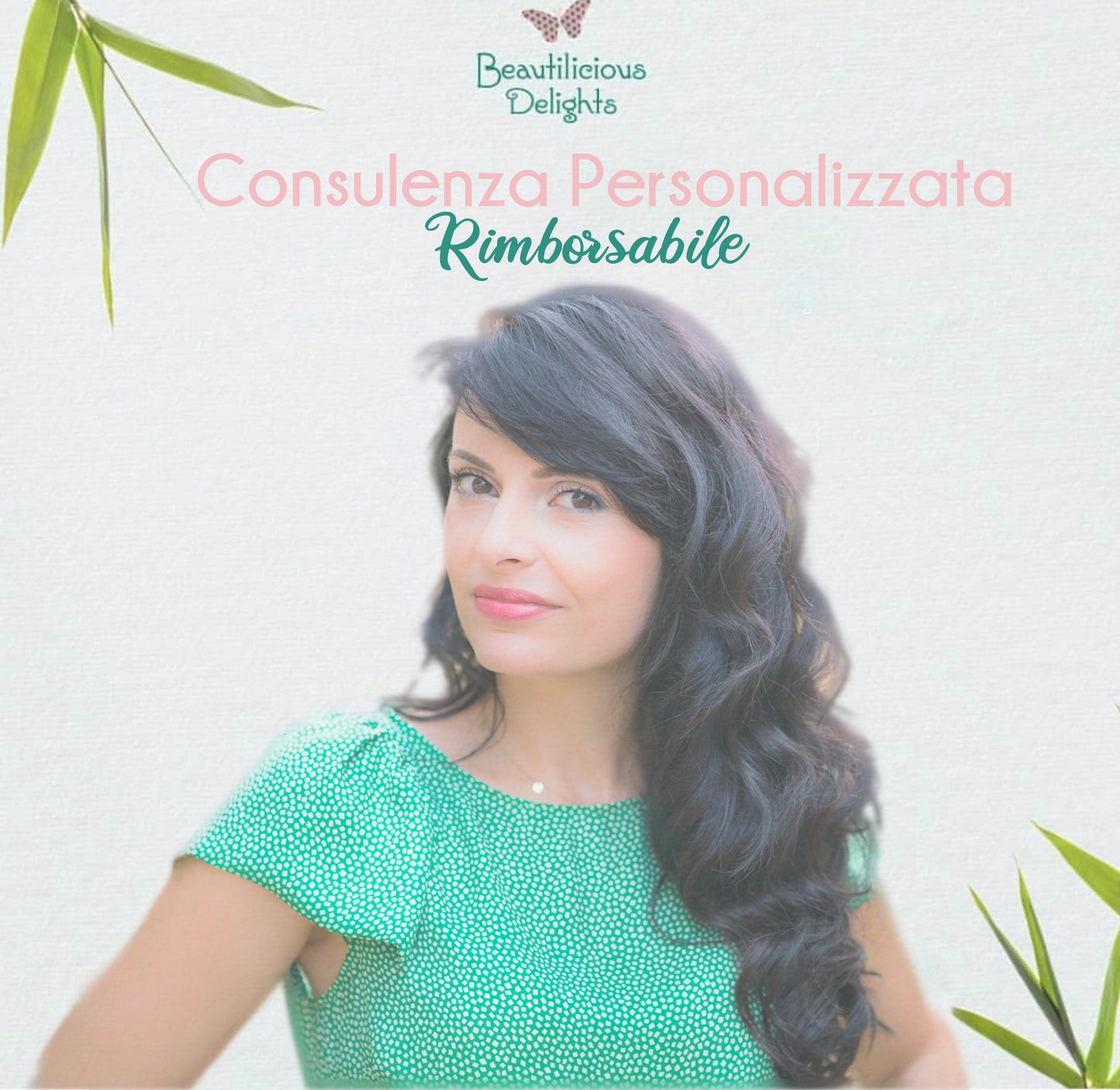 100% natural products

Quality always guaranteed

Personalized advice

Free shipping over €69.99

EXTRA discounts over €125