Regular price

23.99 EUR

Sale price

23.99 EUR

Unit price

per

Sale

Sold out

Restorative, Remineralizing, and Sebum balancing

💳 Carta di Credito / Debito, PayPal, Bonifico o Contrassegno
📦 Ordina entro le 10 a.m. per riceverlo DOMANI STESSO!
🎁 Spedizione GRATUITA per ordini superiori a 69,99€
🆘 Hai bisogno di aiuto? Chiedi un Consiglio Personalizzato!
Is your scalp itchy or irritated? Do you suffer from dermatitis or dandruff? Do you want to get the most out your herbal hair color mix?
The Dermo-purifying Scrub Shampoo
is a triple action treatment: slightly exfoliating, sebum-balancing and purifying that deeply cleanses scalp and hair and fights the bacteria that give life to dandruff, itchiness and dryness. Thanks to its innovative scrubbing formulation, it activates the circulation of the scalp and the cellular oxygenation.
It's ideal if used before henna application because it creates the perfect pH level for the best penetration and action of the vegetable pigment.
The Dermo-purifying Scrub Shampoo leaves your scalp freshened and cleansed, and your hair shiny, soft and silky, with a sensual perfume with citrus hints that give a genereal feeling of freshness and lightness.
More than a simple shampoo!
This Scrub Shampoo, if used constantly, will leave your hair cleansed longer and will restore the cutaneous balance, thanks to its exfoliating and deodoring action.
Restoring. Remineralizing. Sebum-balancing.
STOP dandruff and itchiness!


Description
The Dermo-purifying Scrub Shampoo
is designed to prepare the scalp and hair for herbal hair colors application, because it cleanses deeply but gently.
It rebalances, normalizes and reduces the excess sebum. On the shaft, it has a gentle cleansing action thanks to its surfactants derived from coconut.
It was formulated to have a strong soothing and anti-itch action on sensitive scalps that suffer from dermatitis, dandruff and that are constantly irritated. It is able, thanks to the synergy among Salicilic acid, Niacinamide and Piroctone Olamine, to facilitate the removal of the scales and to fight their reappearance.
This Scrub Shampoo:
favours the removal of dead cells, dirt and residue from the scalp,

clears the pores and promotes the oxygenation of hair bulbs

therefore, it stimulates hair growth
Its formulation is rich in Fenugreek and Amla extracts, equisetum, bardana and blackberry organic extracts, and hydrolized proteins of quinoa, rice and soy that deeply nourish hair. It also contains neem oil that has an antibacterial action, panthenol that has moisturizing properties and menthol with a refreshing action.
This Scrub Shampoo does both a chemical and mechanical scalp exfoliation because of the synergy between almonds and hazelnuts shell's microgranules and natural AHA (Alpha hydroxy acids).
The mix of AHA extracts is made of apple concentrate extract, hydrolized red grape, hydrolized wheat bran, lemon extract, citric acid, tartaric acid and lactic acid.
Hair and scalp are cleansed, refreshed and ready for henna application, because the shampoo's pH is basic (6) compared to the normal and physiological value of hair and scalp.
It purifies the scalp, it reactivates the microcirculation and fights dandruff and seborrhea
The Dermo-purifying Scrub Shampoo formulation is rich in active ingredients selected for their purifying, stimulating and restorative properties, like:
✓organic Aloe vera mucilages, Neem oil, with purifying, ✓panthenol (B5 provitamin), ✓fenugreek (methi), ✓hydrolized proteins of QUINOA, RICE & SOYproteine idrolizzate di QUINOA, RISO & SOIA, ✓Moringa extract, ✓organic equisetum, bardana and Blackberry, ✓caffeine ✓salicilic acid, niaciamide and piroctone, ✓vitamin E, lecithin e ✓aminoacids.
A purifying and sebum-balancing formulation that:
cleanses deeply

activates the microcirculation

makes hair look shinier

protects and strengthens the capillary fiber
It's ideal for every hair type, but, especially, for whoever has sensitive, oily scalp with dandruff. The scalp will be cleansed and refreshed and hair will have vitality, softness and vigor.
For healthier and stronger hair and a rebalanced hydrolipidic film
It soothes irritations, leaves an enjoyable freshness feeling and rebalances the sebum production.
Try it! It will amaze you!


Ingredients


100% ingredients of vegetal origin
Size: 100ml
INCI:
span class="s1">Aqua, Sodium Lauroyl Sarcosinate, Sodium Lauroyl Glutamate, Glycerin, Disodium Cocoamphodiacetate, Aloe Barbadensis Leaf* Juice, Ethylhexyl Palmitate, Xanthan Gum, Pyrus Malus Fruit Extract *, Prunus Amygdalus Dulcis Shell Powder, Corylus Avellana Shell Powder, Hydrolyzed Quinoa, Hydrolyzed Soy Extract, Caffein, Panthenol, Phyllanthus Emblica Fruit Extract, Equisetum Arvense Extract*, Arctium Lappa Root * Extract, Vaccinium Myrtillus Fruit* Extract, Alanine, Proline, Lysine Hydrochloride, Trigonella Foenum-Graecum Seed Extract, Hydrolized Rice Protein, Hydrolized Wheat Protein, Moringa Oleifera Leaf Extract, Tartaric Acid, Citrus Limon Fruit Extract*, Hydrolyzed Grape Skin*, Hydrolyzed Wheat Bran*, Menthol, Piroctone Olamine, Niacinamide, Lecithin, Tocopherol, Ascorbyl Palmitate, Salicylic Acid, Melia Azadirachta Seed Oil, Parfum, Phenethyl Alcohol, Ethylhexylglycerin, Lactic Acid, Alcohol, Helianthus Annuus Seed Oil, Sodium Chloride, Propylene Glycol, Citric Acid, Sodium Benzoate, Potassium Sorbate, Sodium Hydroxide.
*from certified organic agriculture
***************************************************************************************
Key Ingredients
Dermo-purifying Scrub Shampoo with AMLA, METHI & NEEM:

Organic Aloe vera, Amla extract, Methi, Neem oil, hydrolized proteins of quinoa, rice, soy, Equisetum and bardana organic extract, blackberry, aminoacids, caffeine, Moringa extract, fruit acids, lecithin, vitamin E, niacinamide and salicilic acid
***************************************************************************************


How to use
For external use only
Recommended to restore the right hydrolipidic balance. It fights the scalp irritation and prepares the scalp and the shaft for the henna application.
It's perfect for who has sensitive, irritated scalp with dandruff or dermatitis.
Tips:
Shake it before use.
Apply the product on wet scalp and hair, gently massage it for a few minutes. Rinse abundantly. Repeat if necessary.
*Massage it without rubbing
We suggest you to use this product every 15 days for a targeted action against dandruff and seborrhea alternating it with other vegetal shampoos like Aritha Glow, Shikakai or Sidr, that are more suited for daily use.
For a deeper cleanse than normal shampoo!

Packaging
INFO ABOUT THE PACKAGING:
For the packaging of this shampoo we chose an innovative material: HDPE GREEN that comes from renewable sources, a polimeric material that comes from materials with a vegetal origin that's renewable after every harvest (it can be cereal or beetroots).
Another thing that makes the difference is that there's no release of CO2 in the atmosphere during the plastic production process.
It was calculated that for every kilogram of bioplastic that is produced, there's a reduction of 3.09 kg of CO2 in the atmosphere (fonte Braskem)
The research for a suistainable packaging will be extended to every product line, in order to fully embrace the green philosphy that has always been the base of the Beautilicious Delights line.


***************************************************************************************
Recommended for:
oily scalp with dandruff, seborrhea and dermatitis

encouraging the microcirculation
promoting oxygenation
a deep cleanse
eliminating impurities
obtaining the best out of the herbal hair color mix
***************************************************************************************
Properties:
✓ Exfoliating: thanks to the mix of natural AHA (alpha hydroxy acids) and almonds and hazelnuts shell's microgranules
✓ Purifying and sebum-balancing: thanks to Neem oil, bardana extract, salicilic acid, niamicide and piroctone olamine
✓ Strengtheing: thanks to hydrolized proteins of quinoa, rice and soy, lecithin, vitamin E and Moringa
✓ Hydrating: thanks to aloe vera and panthenol
✓ Remineralizing and restoring: thanks to equisetum and blackberry extract, Methi and Amla and aminoacids
***************************************************************************************
Characteristics:
- With ingredients from organic agriculture
- Vegan
- Silicones and parabens free
- Delicately perfumed, with hints of citrus. Vivid and sensual
Bring your hair back to life with Nature's help
View full details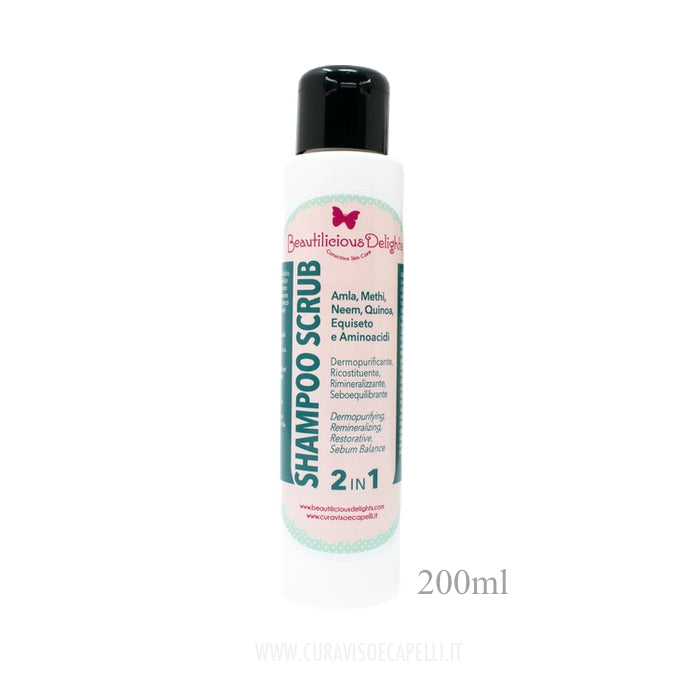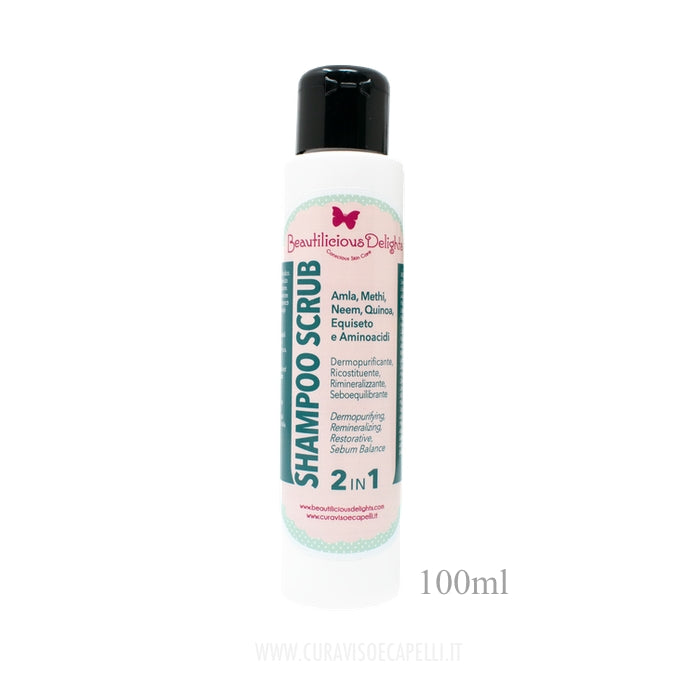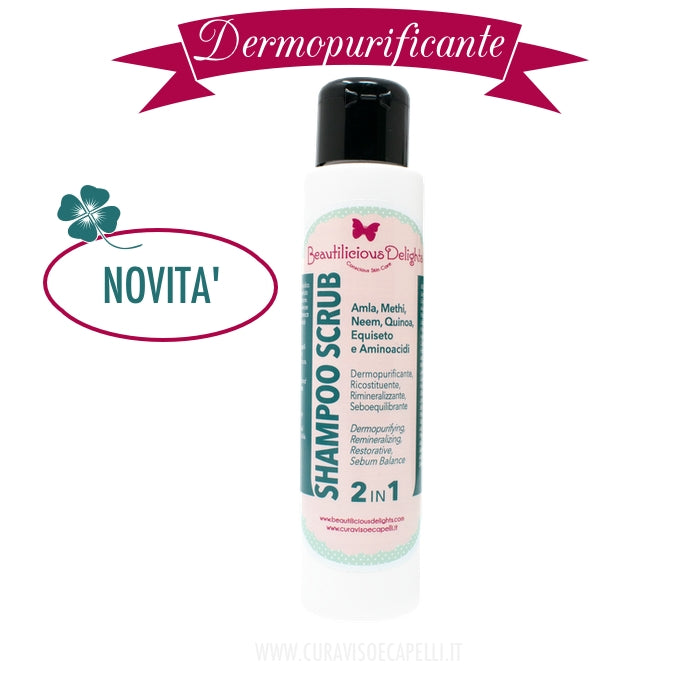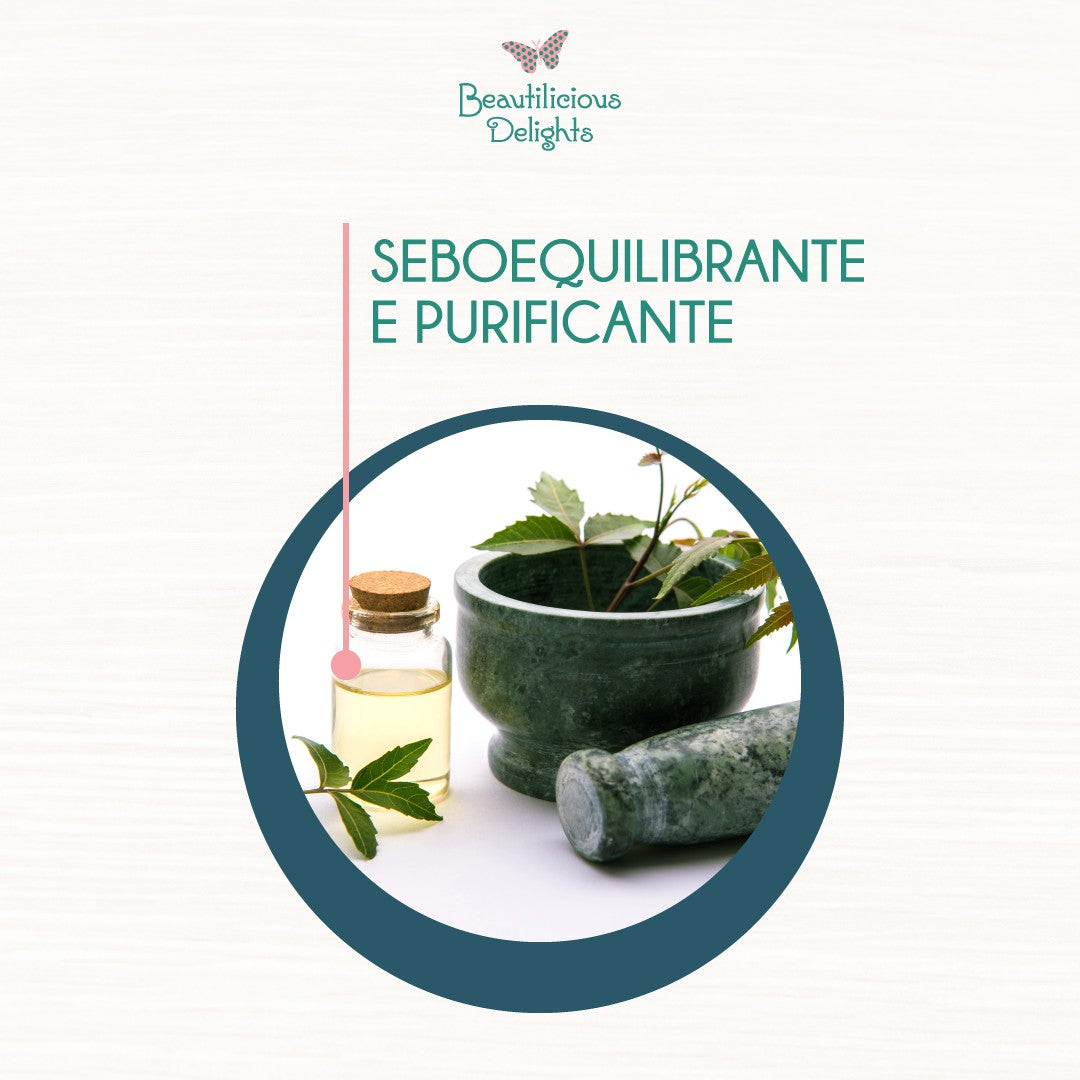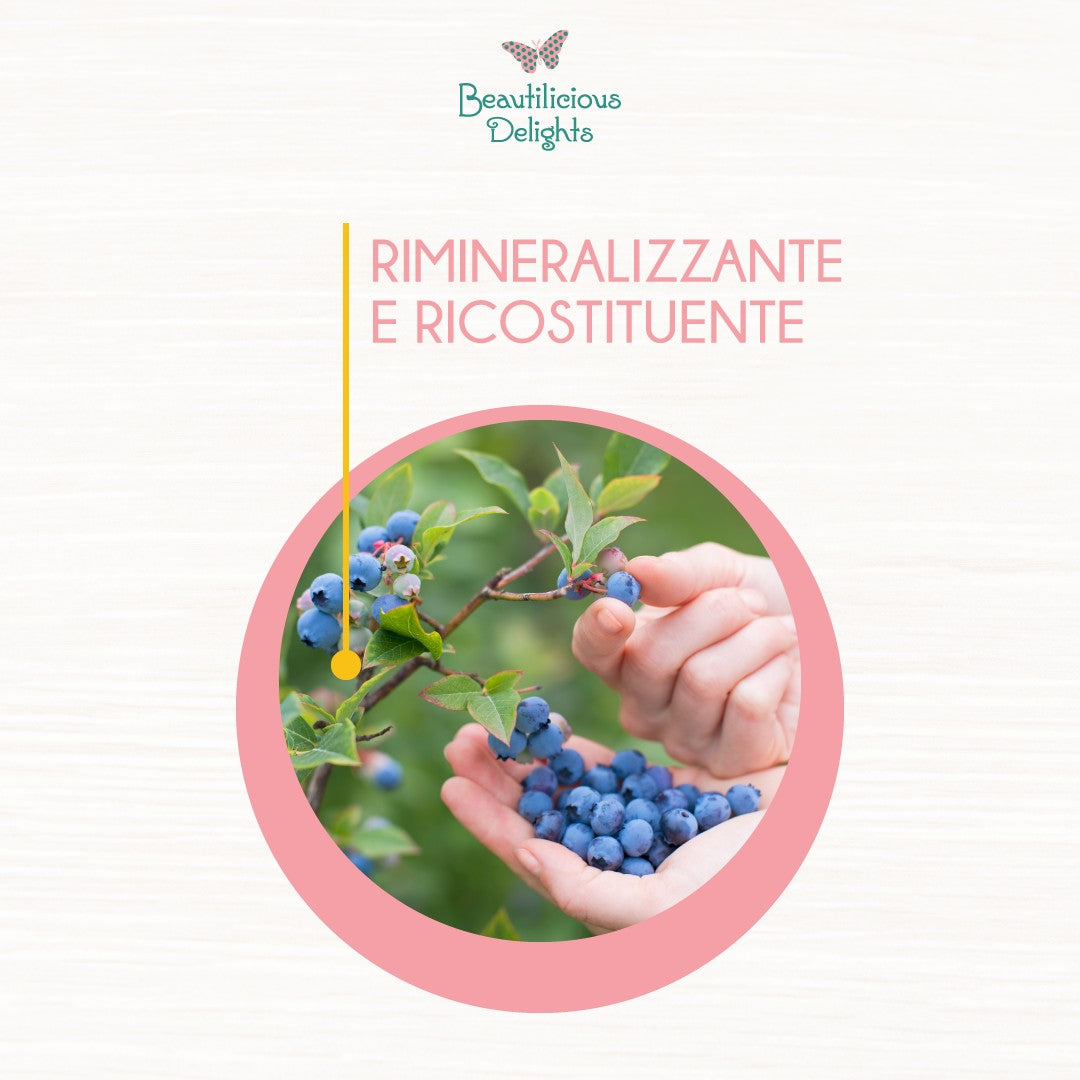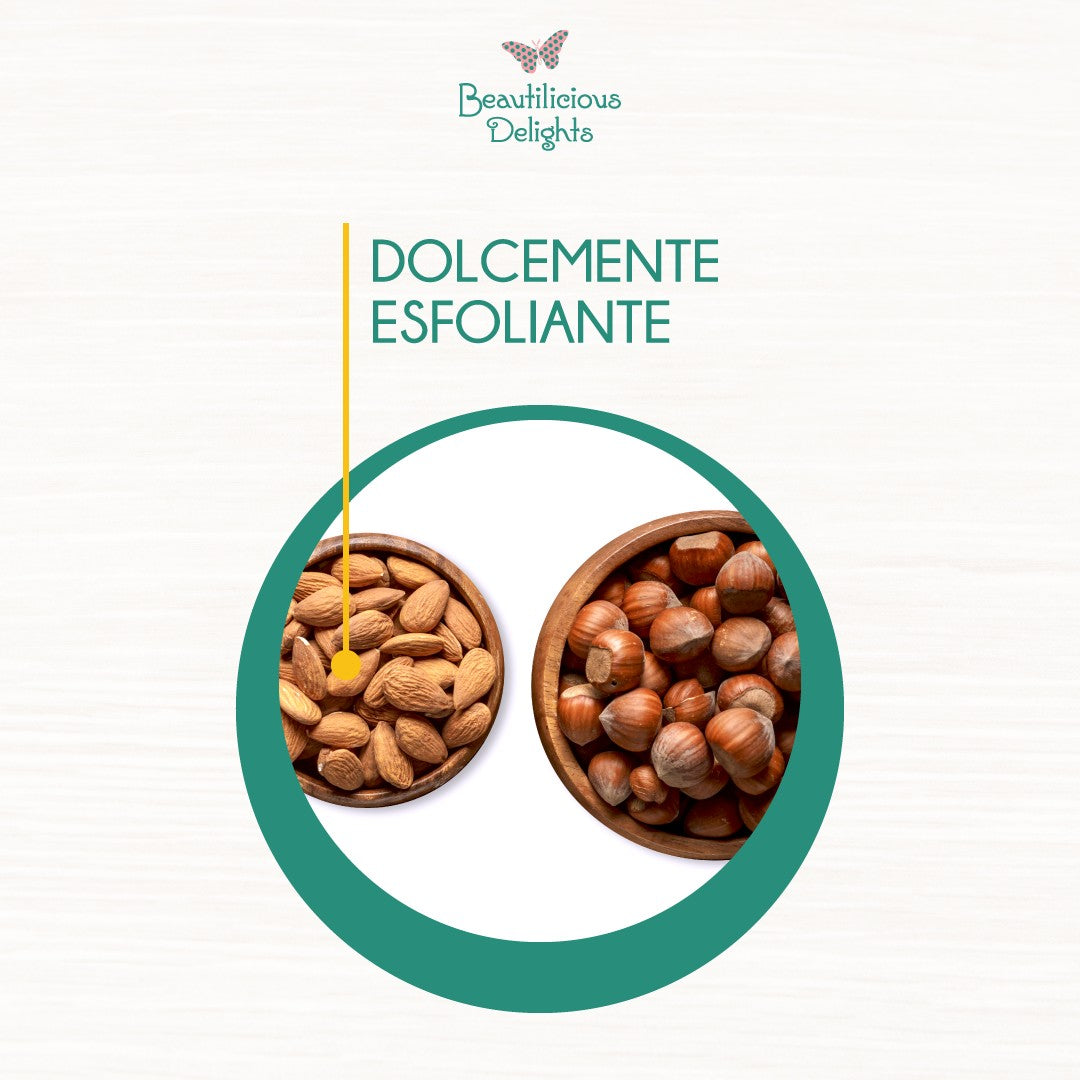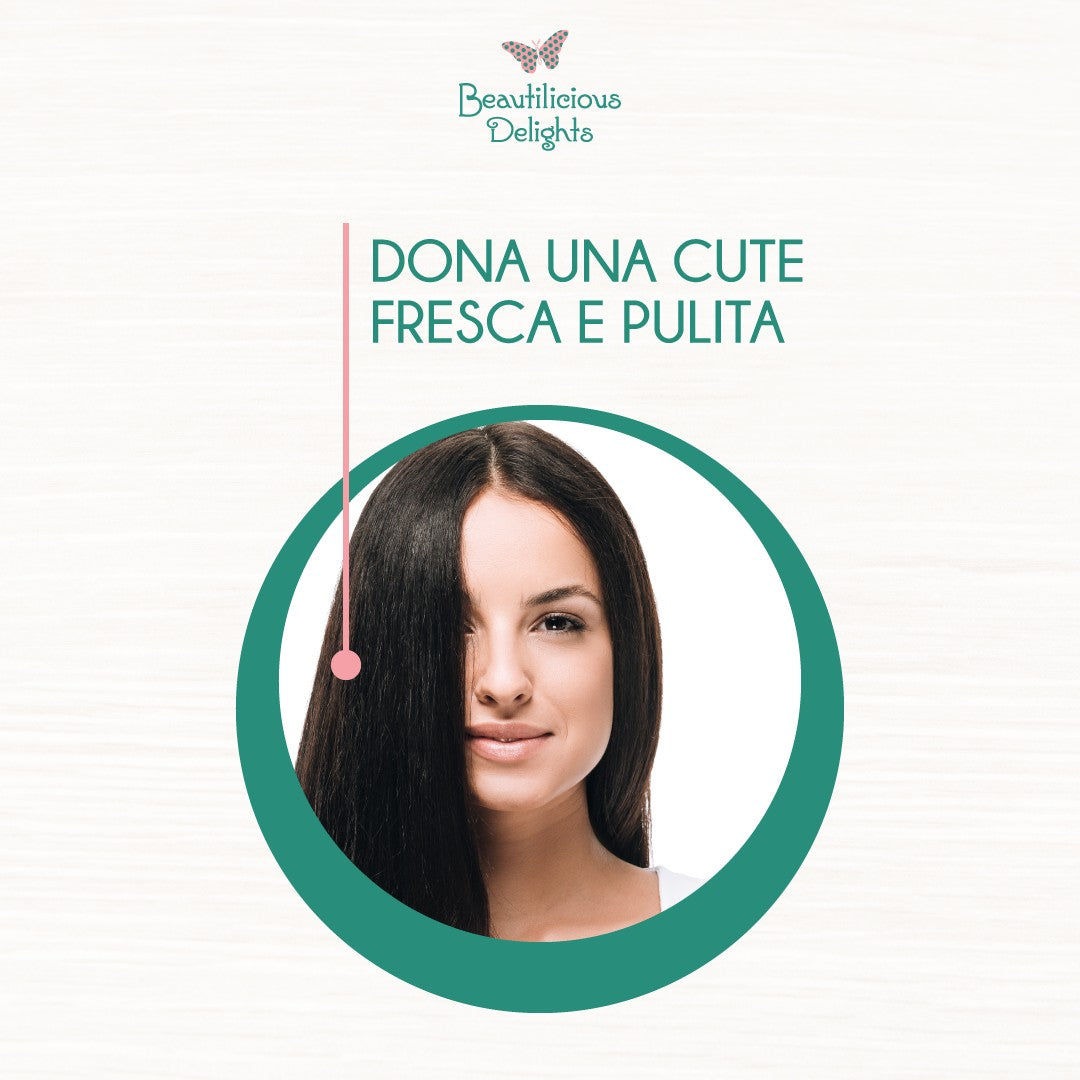 100% natural products

Quality always guaranteed

Personalized advice

Free shipping over €69.99

EXTRA discounts over €125